Thank you for your business!
follow us, leave a review, and subscribe to save
Want more Pita Bowl content? Give us a follow on Facebook and Instagram where you'll find frequent Pita Bowl photos and updates!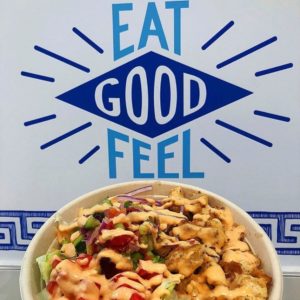 We hope you enjoy your meal! Please feel free to leave us a review or subscribe to our mailing list for weekly specials and monthly giveaways.
Absolutely loved this place! Great portions, great flavors, and great service. Someone even followed up with us to see how everything was when we were eating. Being Greek, it's hard for me to find authentic / great tasting Greek food on Long Island that I enjoy. I'm so happy this place is local and now we have genuine amazing Greek food on LI!
If you want the most flavorful and fresh Greek cuisine around I would definitely recommend checking this place out. The place itself is very clean and inviting along with a very friendly and knowledgeable staff. The portions are the perfect amount. The spicy feta and Pita Sauce is a must try. Definitely not like most Greek places in terms of being very simple and boring. If you don't know what to do for dinner go try PitaBowl and I guarantee you won't be disappointed!
The portions were great and the prices were reasonable. They allow you to pick from a ton of items that you can put in your bowl in addition to the two proteins like lemon potato's and grape leaves which you would think would cost extra! It was delicious and I am excited to go again! I would highly recommend anyone to try it you will not be disappointed.
The food was simply amazing and super fresh. The restaurant was clean with welcoming decor. The quality of food and portion size are both unmatched. Everything i ordered was great but the fiesty feta was crazy delicious. Lastly the staff was on top of everything and the restaurant is owned by a respected local family which makes it that much better. I highly recommend pitabowl to anyone and everyone.
We're happy to answer any additional questions you may have.
Our Build Your Own allows you to choose exactly what ingredients you would like for each meal. Start by selecting Pita, Bowl, or Salads. Next, choose your protein followed by your desired add ons and sauce. Lastly, enjoy!
Yes, we do! Visit our menu page to learn more about our gluten-free options and ingredients.
Currently, we're open every day. Monday: 4 pm – 8 pm and Tuesday – Sunday: 12 pm – 8 pm.
Yes we do! We accept all delivery orders through DoorDash.
We accept all types of payment options including major credit cards.
Funny you ask, yeero is how we say gyro in Greek!